Uploading Files into Design Space
As you may or may not know, Design Space is Cricut's online software that allows us to print and/or cut our craft files. You can upload jpg, png, bmp, svg, and dxf files into their online program. (Recently they released a beta offline version that can be downloaded and played with. I have toyed with it but fall back to using online until the bugs get worked out.) Uploading files into Design Space can seem pretty difficult, but do not worry! I have taken a minute to come up with a complete step-by-step guide!
Regular Images – These include your files like .jpg, .bmp, .png, and .gif file types. When you upload these, they are put in as a single, flat layer. You have the ability to choose the complexity of these files and make adjustments like taking out the backgrounds so you can use their awesome print and cut feature.
Vector Images – These include your .svg and .dxf file types. These are scalable images, which means that you can increase and decrease the sizes of these files like a million times without losing the quality (although let's not got crazy). These files are often ones that you purchase or download for free (through awesome places like these). You will notice that these files, once saved, will have multiple layers and groups for you to cut.
Step 1 – When you want to upload an image or a file, you want to go to your Cricut Design Space. You will select "Upload Image". A pop up will appear and you will need to choose your image from your desktop / laptop / whatever you are working with. You can also drag and drop your image/file within the dashed line box if that is easier. *You do you!*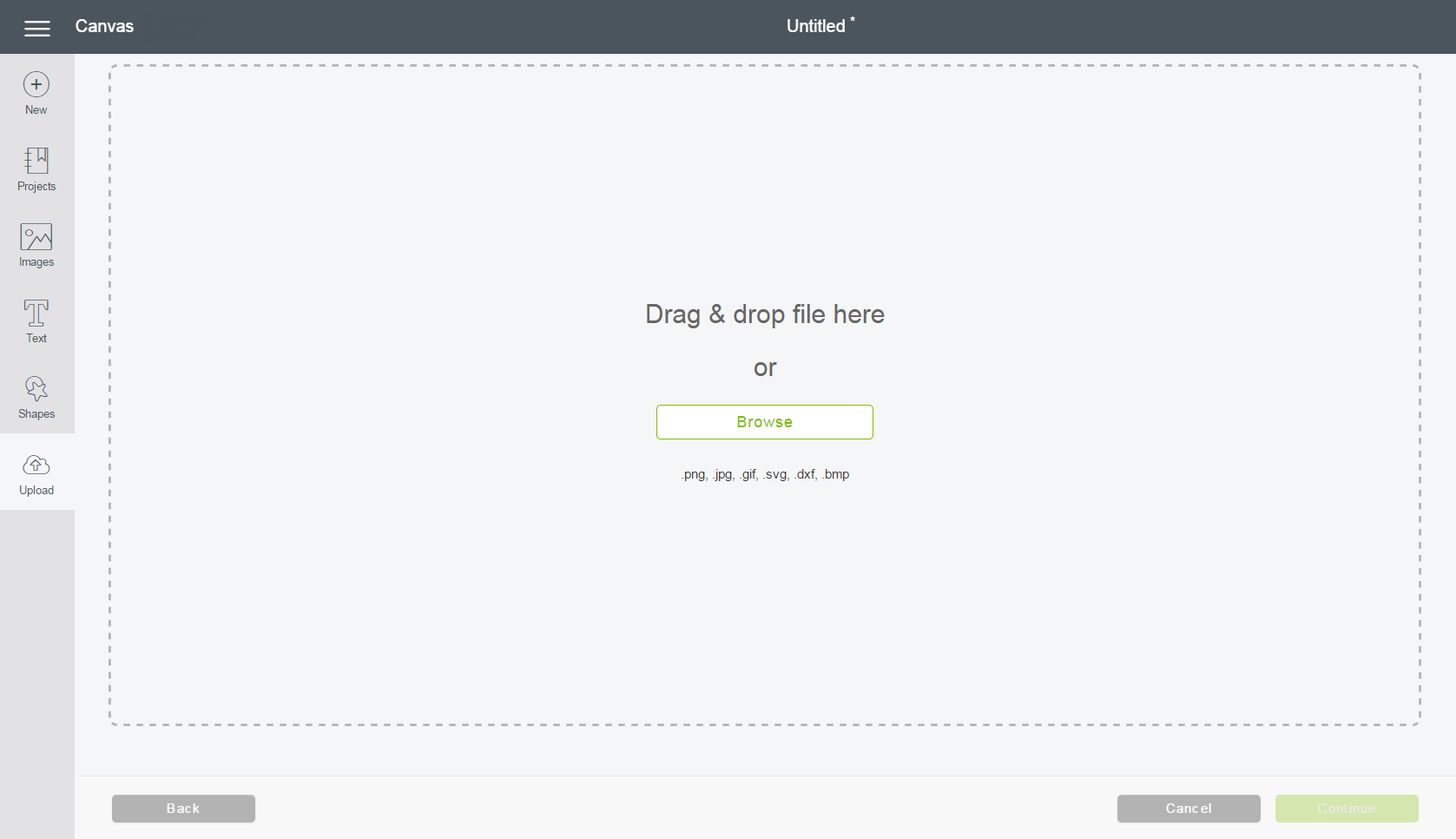 Let's Upload An Image
Option 1 – Image Upload:
Select your image that you want to upload (these are your .jpg, .gif, .png, or .bmp files).
Decide if your image is simple (think 2 color, contrasting colors, easy to clean), moderately complex (okay, so we have a wee bit of cleaning up to do), or complex based (- OMG the textures! The gradients! It's so BEAUTIFUL!) Click "Continue."
Here you will be able to use Cricuts online editing tools to make adjustments to your image. You have the ability to Select, Erase, Crop, Cha-Cha Slide – okay, maybe not cha-cha, but you get the point – to remove any unwanted background from your image. As you begin to remove pieces of your image, you will notice a checkerboard background. No, you didn't enter a weird game like three wizards (pht, excuse me while I wave my wand), that just means that you have successfully removed that part of the image. Anything solid means that that part will still appear. *Pro-tip Do not hesitate to use the zoom feature! It helps – like magic! See below for more details
When you have taken out what you want, select Preview to show the cut lines of your image. If you see any spots that you missed (Hey, we are not perfect, I had to redo mine twice *facepalm*), select the back button to return to editing and remove what you missed. When you are done doing that, select Continue.
Now, name your image and tag it for easy searching later. Decide if you want to save your image as a Print Then Cut or as a Cut image. Saving as a Print Then Cut image will save the whole image – just like it is – colors and all! You will need to print the image out and then run it through your Cricut to cut it. (There are size restrictions to print and cut! 9.25″ x 6.75″ I know, I know, I wish they would give us more space, but one step at a time). Saving it as a Cut image will allow you to just cut right away. *Pro-tip Seriously tag and name it. It helps, I have lost my projects in the sea of uploads. Time is money and if you are doing it for fun, time is still time! I know I would rather binge watch TV shows than searching for a file.
When you are done, select Save. *Mic Drop!* You will now be taken to your upload screen and your new, edited file will be the first thing you see in the library at the bottom. Click your file to add it to your Design Screen and let's get crafty!
Option 2 – Vector Image Upload:
If you have already downloaded a ready to go file, (these are your .svg or .dxf files) you can upload those instead of a "regular" image. Following the same first steps, select "Upload" then pick our your SVG file or drag and drop the file into the Design Space image upload window.
Name your image and tag it (if desired) for easier searching later. Then select Save. *Pro-tip Seriously – I can not stress this enough, don't be like me! LOL. Tag and name it. It helps, I have lost my projects in the sea of uploads. Time is money, Time is Time, Binge Watch TV & Chill, Wine Time, Party With The Boys – Whatever your thing is.
You will return to the Upload screen again. Your cut file will appear as the first one in the Library at the bottom of the screen. To add the image to your design screen, click on the image to select it, then select Insert Images to add it to your design screen.
Vector images will appear on your canvas as a grouped image. If you ungroup the file, the image layers can be moved and sized separately. To ungroup, right-click and select "ungroup"
Now that you know all about uploading files into Design Space, it's time to get crafty. You need to grab your choice of vinyl and your mats and get started! Eek! I am so excited for you. Get ready to experience the magic.